Introducing Your Smart Dashboard: Analyzes your
web/e-mail traffic to give marketing recommendations.
Developed to not only display more analytics, but interpret all your online activity and help make best-practice marketing recommendations to increase your web and email effectiveness. If you need specific help or a more tailored approach, we have included a form to send your request to us directly.

Notifies you of new subscribers & contacts
and makes it easy to reach out to them.
Want to keep track of how many new subscribers have joined your eblast lists or submitted info through your web site contact forms? The notifications area does just that. These contacts, and those you have manually added, are available to reach out to by e-mail marketing or plain text e-mails through your Backstage address book.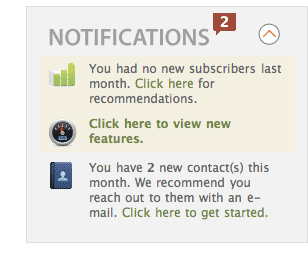 Integrated E-mail marketing,
tracking & contact sharing.
Because e-mail marketing is now integrated into Backstage, you will be able to use your Backstage address book as a hub for contact management and your e-mail lists. The dashboard will display an E-mail Marketing Statistic area that includes key stats from your last eblast campaign.